Nedport's newest prestigious development in Umhlanga Ridge Town Centre is changing how people experience convenience in KZN. Park Square is located 18 km from King Shaka International Airport, with proximity to Durban central, easily accessible to the N2 and M4 freeway and the future Rapid Bus Transport system.
"When we began to work with MAP Architects to specify our door closing solutions for this ground-breaking development, we saw that the design would offer occupants and the public a unique work and play lifestyle experience," says Brett Oosterberg, GEZE Regional Manager KZN & EC.
Featuring office and retail space, together with a glass filled walkway which connects and integrates CJ Saunders Park to the building from the open public square, means that the public and occupants experience a truly connected and integrated lifestyle experience that responds well to Durban's climate. Here the emphasis is on convenience … scaled-down exquisitely designed retail and restaurant areas makes this a convenient space for people to quickly pop in and out for meals or groceries, take breaks outdoors in between meetings and/or drop by from nearby locations – a truly sophisticated cosmopolitan experience.
Setting new standards on how people experience their day
Nedbank's new campus and office space spans 5 blocks, and its primary purpose is to house a sizable call-centre.
"We challenged the traditional single-use intention of the brief, because we saw this as an opportunity to lift the large functional call-centre footprint off the ground, and to incorporate a ground-level space below which transforms how the high volume of foot-traffic from both the public and building occupants will activate the space, elevating the way traditional office space is typically used," says Jarryd Murray, Director MAP Architects.
Working with the Arup Group, the bulk of the modest budget went into creating a breath-taking open concrete and glass structure, which not only introduces natural light through the elegant double volume retail space, but also provides the offices with a 270° view of the surrounding area.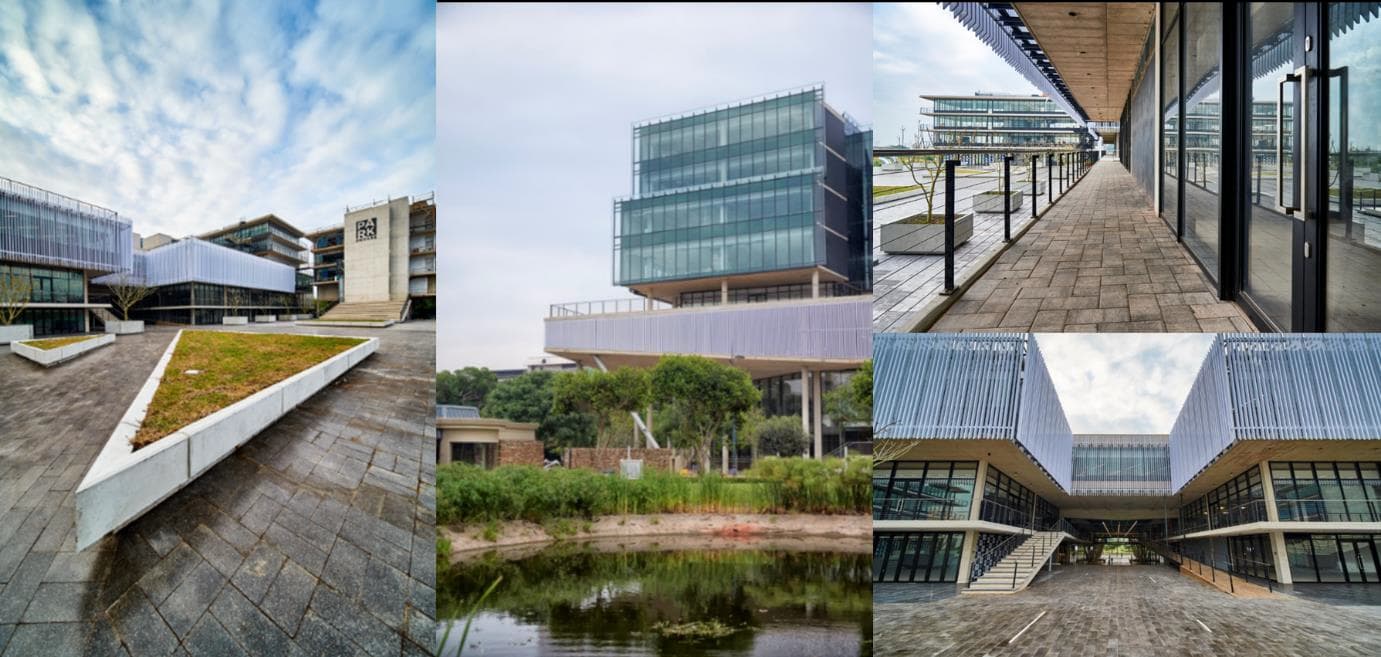 Going faster, advanced technology powers up team collaboration
"Meeting the extremely tight deadline on Park Square was in part made possible by working with advanced live, navigable 3D Revit technology. Not everyone in the project team is a visual thinker and, with this technology, we were able to operate as a cohesive team across all professions. With the central model brought to life in great technical detail, we could jointly visualise the model, and this helped us to anticipate the interconnected relationship between the buildings design, engineering, fire-safety and wet-services to know how we solve challenges in advance. Ultimately this helped us to go faster," said Jarryd Murray.
Exquisite door closing solutions, perfect for this landmark development
Because door and window solutions are becoming increasingly specialised to address fire-safety standards and seamless integrated ease-of-access, GEZE offers expert end-to-end support for the full project journey, starting with upfront consultation to better understand the functional and aesthetic requirements of the building. Followed by the use of the bespoke GEZE EZE BIM specifying software which facilitates faster results and higher quality outcomes, updates are automatic.
GEZE's role doesn't end there though as, if needed, the company will also project manage the product supply and guide installation to ensure that GEZE standards are upheld at every stage of the building journey. This results in faster outcomes and fewer snags.
Consensus is that "working with the GEZE KZN team is a pleasure. Tandi-Lee Salvado always makes time for our requests, changes are turned around in a matter of hours and GEZE works alongside other contractors with ease to deliver a quality solution," says Dhiagan Chetty, Architectural Technologist MAP Architects.
"While our client wanted occupants to experience unencumbered access to the building, there was a need to ensure that the door presentation and its functioning was seamless and simple, to ensure that these didn't detract from the incredibly engineered structure of the double volume shop-fronts," said Tandi-Lee Salvado, GEZE Architectural Consultant, KZN.
The retail and office space doors were treated with a pleasing functional and streamlined TS5000 ECline guiderail door closer, which can be fitted to 1,250 mm leaf width doors. This is the ideal system for universal access, where a high reliability is needed, and this is due to the integrated guide rail.
Fire safety doors feature GEZE's European certified TSA160 NT-Invers, which allows the doors to open in the event of a fire or emergency and helps provide fresh air intake required to clear the area from smoke.
Adding value, reliable and trusted expertise
"What a stand-out development in this rapidly developing mixed-use metropolis in Umhlanga.
I'm originally from Durban, and I get super-excited when GEZE has an opportunity to be involved in landmark developments such as Park Square. I think that our client's seamless experience is aided by the fact that GEZE brings considerable expertise in the Retail/Shopping Centre space, having also recently completed: Dunes Mall: Walvis Bay, Namibia I Mall of Africa: Midrand I Mams Mall: Mamelodi," says Kevin Diamond, GEZE MD Southern Africa.