In rooms with a high moisture level, such as bathrooms, spas, washrooms or industrial kitchens, in particular, high demands are made on waterproofing. The assumption that ceramic floors are watertight is often a mistake. The resulting decision to do without sealing measures frequently leads to unpredictable consequences such as cracked joints, frost damage, mould formation or corrosion. For this reason, the EN 1253 standard requires a waterproofing seal to be installed under ceramic and natural stone floors in wet rooms.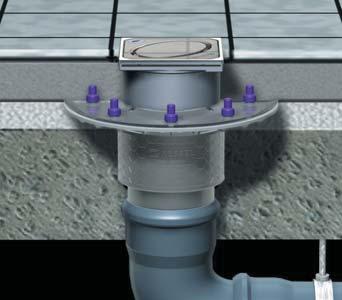 Single waterproofing flange
Can be used as waterproofing in all wet and damp rooms. The sealing strips used that are made of elastomer or synthetic materials and also bitumen sealing strips can be installed loosely, adhered with bitumen or attached using other hot polymer adhesive compounds.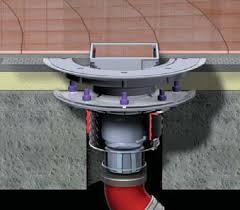 Double waterproofing flanges
This can be used to seal against moisture in all wet and damp rooms. The elastomer or polymer sealing sheets and bituminous sheeting can be laid loosely, be bonded with bitumen or other polymer hot glue materials.
The upper sealing level serves as a waterproofing layer against seeping water, the lower waterproofing layer protects the floor from moisture rising from below.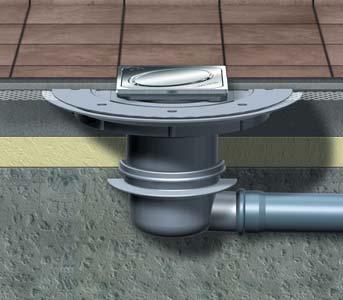 Shallow waterproofing flange
Can be used in wet rooms with non-pressurised water e.g. bathroom, shower, kitchen). The manufacturers of chemical building products have come up with a safe and economical alternative to sub-screed seals – in the shape of special ready-to-use spreadable sealing materials. These sealing materials (e.g. PCI, Schomburg, Deitermann) form a flexible seal that is watertight and that can also bridge cracks. KESSEL supplies the Variofix shallow bed upper section as an optimum solution for very critical details when connecting drainage points in shallow bed constructions. Shallow bed upper section can also be used in combination with epoxy resin seals.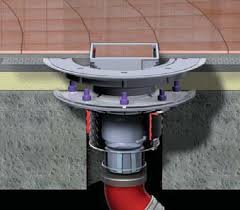 Shallow and lower waterproofing flange
Used for waterproofing in all wet and damp rooms with seepage water and nonpressurised water from below. The shallow bed gasket used is applied above the screed with special ready-to-use and spreadable sealing materials in compliance with the ZDB information sheet. This is governed uniformly in the building regulations of all German states. The consequence of this is that structural works, such as bathrooms, need to be protected from moisture penetration. Parts exposed to moisture are usually covered with tiles and slabs. Ceramic materials are resistant to moisture and are water-repellent but they are not waterproof. In this case, they are water-permeable which means they require additional sealing. The second seal must be positioned e.g. on the concrete slab. In this case, a lip seal is used. The lower seal level prevents moisture from rising. Professional installation must comply with the standard DIN 18195-4.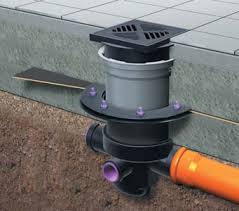 Waterproofing flange for impermeable concrete
In accordance with EN 206-1 and DIN 1045-2 constructional elements made of impermeable concrete. Impermeable concrete constructional elements are structures which are prepared without an additional outer laminar waterproofing layer and prevent water penetration solely on account of the concrete used and design measures such as joint sealing and crack width restriction. Impermeable concrete construction elements belong to the group of rigid waterproofing layers and adopt both the load-bearing and sealing function in one. Floor-slab and outer walls are cast as concrete tanking with a high water penetration resistance in accordance with EN 206-1 and DIN 1045-2.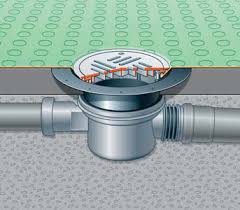 Waterproof flooring
Since the floor covering takes over the function of the sealing level, in this case, the drain must have a watertight connection to the floor covering using a clamping flange. The clamping flange upper section can be combined with all the drain bodies suitable for the respective system.
Product Range
The wide range of KESSEL drains and channels complies with all legal requirements for different installation situations:
Request a Quote
Contact EDT EuroDrain-KESSEL for the perfect solution