An impressive addition to Chryso's range of decorative concretes is LuminTech, which comprises a variety of different luminescent particles that are applied to the surface and incorporated into the concrete skin. During the day these particles look like natural aggregates but they also absorb both natural and artificial UV radiation. After dark, the particles release the energy to illuminate selected areas of a building or home.
LuminTech offers exciting new design possibilities for architects, landscapers and home-owners. This innovative technology can be used to illuminate and enhance the architectural lines of an urban building at night, or highlight a domestic terrace or garden pathway, or the edges of a swimming pool. The intensity of the illumination depends on the volume of particles scattered on the concrete skin.
Available in four colours, the particles are ideal for outdoor use as they are not epoxy-based.
LuminTech's glowing appearance can generally be seen for more than 10 hours after dark, and can be used as luminous nocturnal marking in lowlight areas or even replace electric lighting on cycle paths, for example.
"The luminous concrete marking enhances quality of life as it clearly defines spaces, making it easier for users to find their way in the dark".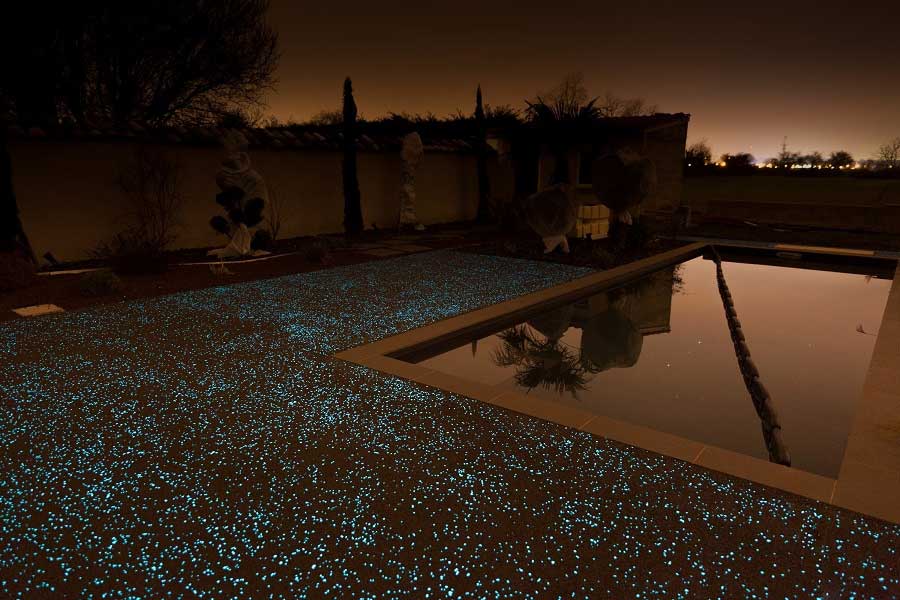 Applying LuminTech merely calls for the particles to be placed on the concrete surface. It also requires no manual input to 'switch on' and just needs conventional decorative concrete maintenance: washing the surface occasionally with soapy water. Even in daylight, the particles offer designers creative potential:  the choice of daytime colours differ from the colours glowing in the dark.
LuminTech should ideally be used on exposed aggregate concrete in conjunction with Chryso's Deco Lav water-based surface retarder. The luminous particles are also suitable for polished concrete surfaces although this application is not widely used. The durability of LuminTech is another strong positive factor as its luminosity does not deteriorate over time.
LuminTech is an environmentally-friendly light source as its particles are sourced from composite recycled material and natural mineral pigments. Its technology meets several French and European standards and strongly resists impact and friction. It is also not affected by freeze-thaw cycles.
Applications include:
Garden paths and walkways
Terraces
Swimming pool surrounds
Pavements, cycle paths and unlit roundabouts
Surface-retarded and polished concrete
This article was featured on page 34 of Specifile's Spotlight magazine.

Specifile Spotlight is a digital magazine published bi-monthly for architectural, engineering and other design industry professionals.