Africa is known for its host of breathtaking lodges and private retreats which makes the most of the variety of African landscapes and natural scenery. Cemcrete finishes are synonymous with lodge design and have been used in lodges and hotels throughout Africa since 1973. We showcase 5 awe-inspiring lodges all boasting Cemcrete finishes.
Tongabezi Lodge
An assortment of quirky houses and cottages dotted along the banks of the Zambezi, Tongabezi is a lodge with style, exclusivity, bucket loads of charisma and a plethora of Cemcrete finishes. No wonder it was voted the 5th Best Safari Lodge in Africa (by Travel + Leisure) along with many other accolades.
The six cottages and four houses each have their own character and charm, are spacious and have a reputation for high design and luxury.
Tongabezi presented its own unique challenges to interior designer Abi James and her team, including getting products and supplies to the remote area. Cemcrete bags were transported with a canoe across the crocodile and hippo invested Zambezi River to reach the lodge. A Cemcrete specialist carried out on-site training to the local, rural building team breaking language barriers to deliver an end result that despite all the challenges faced turned out to be a unifying work of art.
The design team experimented with texture using wood, cement, and tile flooring combined with textured and smooth cement wall finishes. To read more about this lodge visit Cemcrete's blog – https://goo.gl/HEQHLN
Matetsi River Lodge
Matetsi River Lodge offers a unique experience comprising rich views of wildlife as well as captivating experiences of the Victoria Falls. Situated approximately 40km from the Falls, this exclusive lodge's 18 rooms and private villa gives guests a front row seat to a breath-taking view of the river, as well as to a private 123,500-acre game-filled reserve.
Cemcrete's finishes were used throughout various sections of the lodge upon its renovation, even extending as far as the inside of the swimming pool. The main feature of Cemcrete's distinctive cement-based finishes is natural mottling and movement. This feature harmoniously complements the continuous theme of tranquillity as well as resonates the unmissable movement and flow of the Zambezi River.
The lodge offers a wine cellar, private gym, a relaxing spa and even its own curio shop, perfect for some retail therapy while enjoying your stay. Not to mention the amount of outdoor activities that are also made available, from bungee-jumping to camp based fishing escapades, helicopter flights to white-water rafting and even mountain-biking.
Johan Gardiner, the lodge's Zimbabwean owner, has allegedly spent a small fortune on making his lodge one of the finest in the country. John has even gone as far as to create watering holes for the surrounding game. With such vigour for creating a one-of-a-kind stay for his guests that exudes his passion for the African bush, it's hard not to appreciate this lodge's appeal. To read more about this lodge visit Cemcrete's blog – https://goo.gl/J9zLJ4
Chobe Game Lodge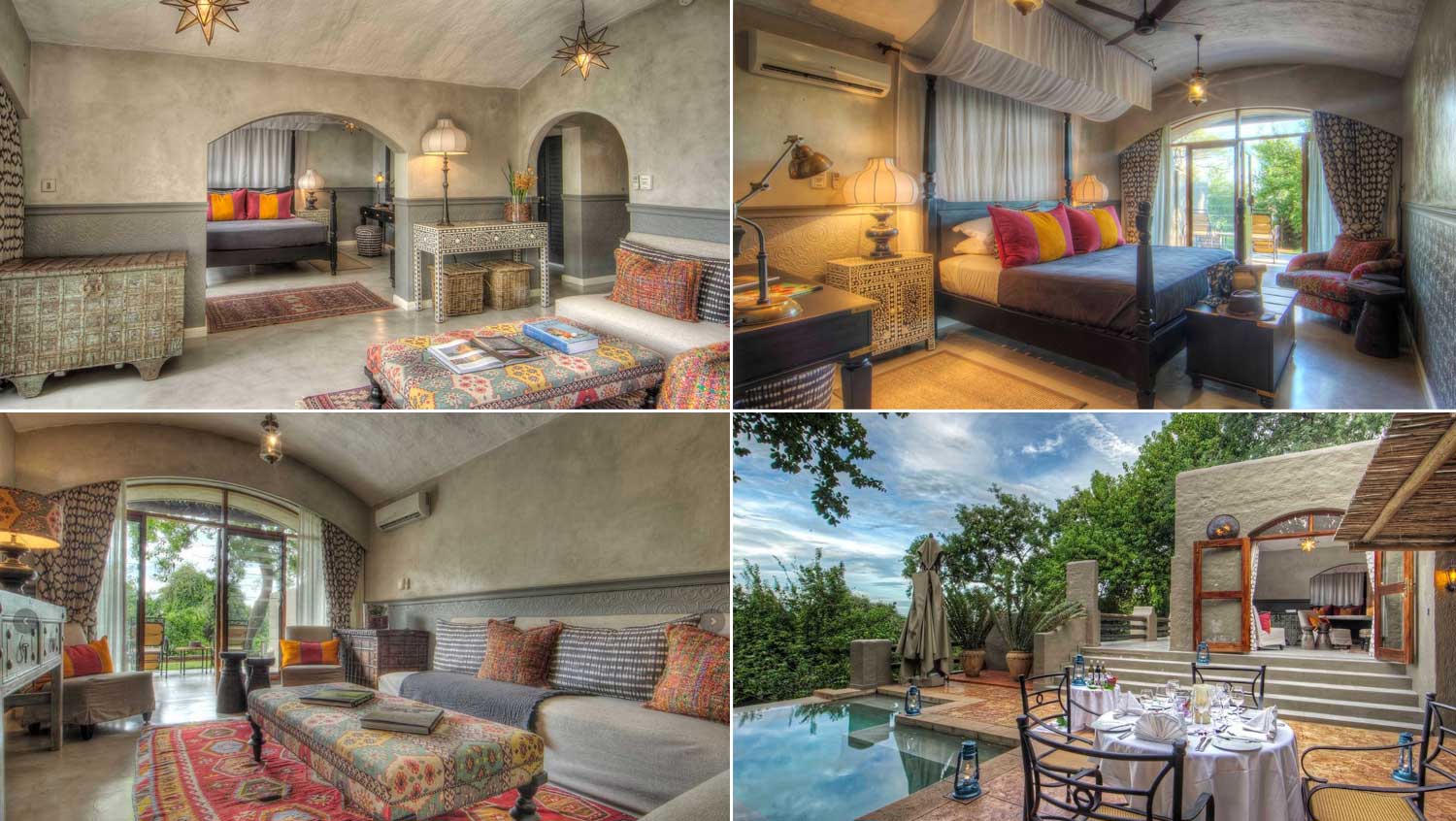 Built in the 1970's, Chobe Game Lodge was the first luxury 5-star lodge of its kind in Botswana. With is impressive arches, high ceilings and expansive interiors the lodge was built in a distinctly Moorish architectural style. It is the only safari lodge inside the Chobe National Park and enjoys one of the best views overlooking the mighty Chobe River.
Chobe Game Lodge recently underwent renovations and was updated using mostly Cemcrete finishes on the floors, walls, and even as far as the swimming pool, which is the ideal canvas for the Moroccan-style decor. The lodge has a colourful, romantic feel that is somehow just the right mix of practical and whimsical. Chobe Game Lodge is far more like a hotel than a lodge with its forty-eight rooms appointed with all the modern conveniences you'd expect to find in a city.
Rooms overlook the river, decks overlook the Chobe National Park and candles light up the many terraces and bar areas. The accommodation at Chobe Game Lodge is comprised of more than forty rooms, four luxury private suites and one family unit. The private suites and family unit each have their own private pool and terrace overlooking the Chobe River.
Along with the private suites and family unit, all the rooms and bathrooms were also renovated and the walls and floors received a makeover using Cemcrete's cement-based finishes. The concrete finishes and neutral colours chosen by the interior design team of Tessa Proudfoot & Associates created the perfect canvas to showcase the Moroccan-style furniture and colourful decor.  To read more about this lodge, visit Cemcrete's blog – https://goo.gl/EtsND1
Latitude 13°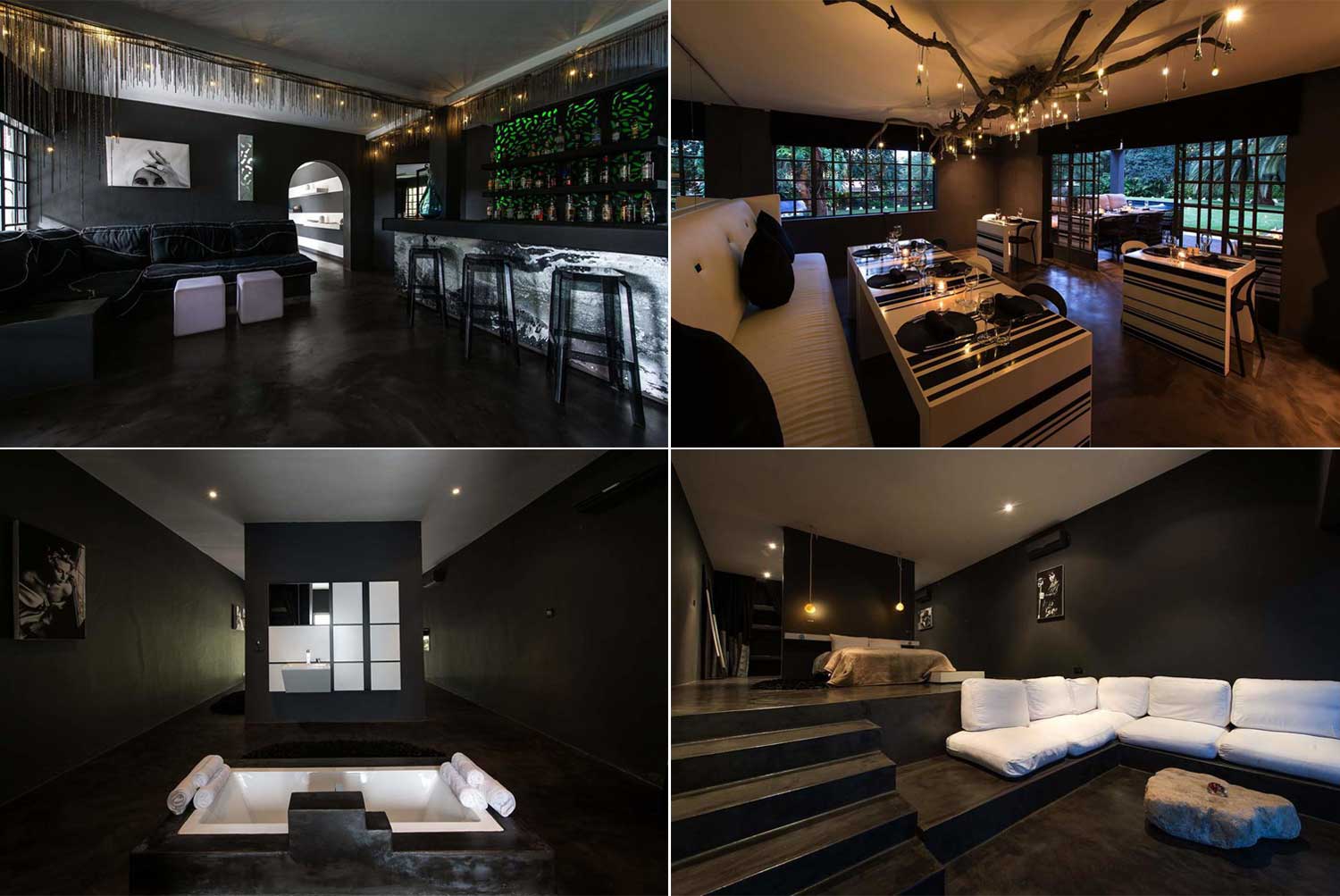 A luxurious boutique hotel situated in Malawi close to the CBD as well as the airport, Latitude 13° offers nine beautifully designed bedrooms, an inviting swimming pool for the warm African climate as well as a tranquil lush garden to relax in.
Rebelling against the norm of everyday expectations of lodges, Latitude 13° appeals to the lover of 'the finer things in life'. Its dark colours create a rich, moody yet sensual feel of exclusivity while still remaining inviting.
While the rich moody hues are continued throughout the lodge by making use of Cemcrete's CreteCote flooring, the rooms' airy appeal is grounded through making use of raw timber and textiles that can be found in nature. Metallics and beadwork create interesting showpieces while adding light and brightness to the various spaces. To read more about this lodge, visit Cemcrete's blog – https://goo.gl/vFZv93
Latitude 15°
White is known as the colour of perfection, which is just what the design of Latitude 15° is.
With 18 guestrooms, a full-service spa, a gym and possibly the world's best cuisine in Zambia, it is an obvious choice when looking for a getaway. Locally sourced furnishings, handmade crafts woven into the decor form the basis of this lodge with playful pops of colour keeping the feel homely yet whimsical.
Its contemporary style includes a multitude of captivating fabrics and textiles, with Cemcrete's finishes as a neutral base.
Latitude 13° & 15° are a perfect example of how polar opposites can unite through a love of African beauty. Cemcrete's cement-based finishes assisted in creating unique and individual looks that can adapt to anyone's style. To read more about this lodge, visit Cemcrete's blog – https://goo.gl/dcE5Ce
To find out more about Cemcrete's products and finishes, visit cemcrete.co.za or call 0860 CEMCRETE