Johnson Controls has launched its Amichi Series of Chillers and Heat Pumps into the South African market. With capacities of 45kW up to 260kW it's the perfect fit for the local mid capacity segment – it marries the price benefit of a scroll chiller with the increased control a direct current (DC) inverter offers for better performance through a wider operating envelope.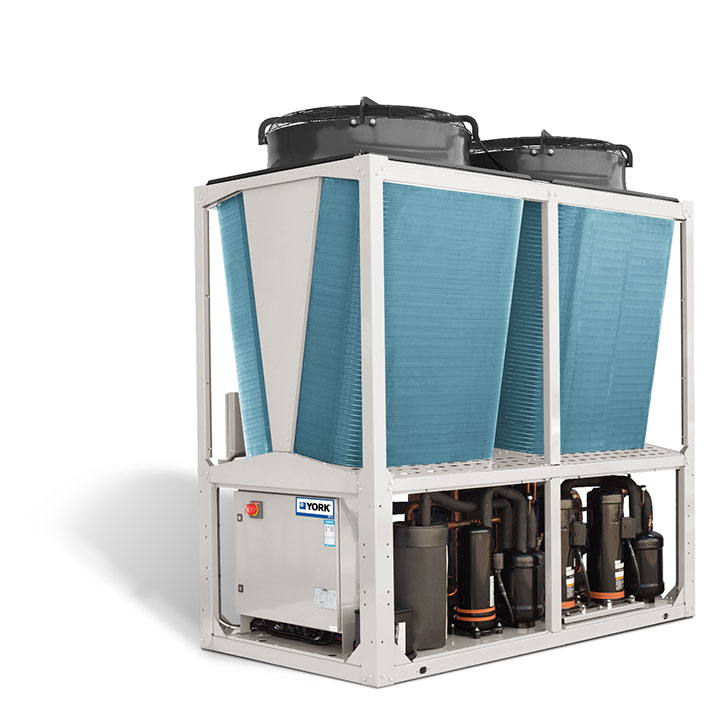 Says Neil Cameron, Johnson Controls Area General Manager, Building Efficiency – Africa: "The new YORK Amichi Series Air Cooled Scroll DC Inverter Chillers (YMAA model) and Heat Pumps (YMPA model) is being launched locally and in Europe to meet growing demand in the chiller/heap pump mid-capacity segment. With high levels of efficiency and performance and the smallest footprint across the widest capacity range on the market, it will provide an excellent fit as a solution for new builds, technology refreshes and retrofits in manufacturing and commercial facilities."
"This solution competes with increasingly popular HVAC Variable Refrigerable Flow (VRF) solutions. "The VRF solutions have a lower price tag but are more complex to install. The Amichi range brings high performance beyond typical chiller efficiency levels, as well as advanced controls."
The Amichi range meets or exceeds the requirements for the Ecodesign regulations for heat pumps, comfort chillers and process chillers through an optimised combination of YORK efficiency-enhancing technologies. The YMAA leads the scroll and screw market in part load efficiency and the YMAA/YMPA gets the best sound performance in the market with no efficiency compromise.
The series comes standard with integrated Smart Equipment technology that allows the equipment to connect seamlessly to a building control systems where smart enabled equipment self-identify and interoperate. Says Cameron: "It provides a truly plug-and-play experience, with no need for programming or commissioning tools. For added flexibility it comes standard with BACnet, Modbus or N2 communication protocols to communicate with any BMS. In addition, an Optiview LT 7-inch colour touchscreen is fitted on the unit frame, with the additional option of a Remote Indoor Controller accessory."
Key features:
Direct current (DC) inverter technology provides variable capacity control and allows YMAA/YMPA compressors to operate more efficiently across all load and ambient conditions.
Electronically commutated (EC) fans use more efficient motors and better aerodynamics to improve overall system efficiency and sound performance, particularly at part load.
High efficiency brazed plate heat exchanger uses less refrigerant and transfers heat from the liquid to refrigerant more efficiently, providing excellent heat transfer performance in a compact size. This also results in a lower water side pressure drop, allowing the use of smaller pumps and further minimizing building power consumption.
Tandem compressor design uses several circuits, which improves off-design and part load efficiency by using the entire surface area of the heat exchanger at all conditions while also providing partial redundancy.
Electronic expansion valves enable operation in both low temperatures and comfort cooling applications without a loss of capacity.
No compromise efficiency – the series can maintain efficiency in a variety of conditions without kits, down to an impressive -17.8°C ambient in cooling mode, and -15°C ambient in heating mode.
The YORK Amichi Series comprises nine packaged models of its cooling-only version, the YMAA; and nine packaged models of its reversible heat pump version, YMPA. The series uses R410A refrigerant and offers capacities from 45kW up to 260kW. Units will be held in stock by Johnson Controls with target lead times of between one and three weeks.