The idyllic old town of Vilnius with its wealth of baroque churches and pastel-coloured palaces has been declared a UNESCO World Heritage Site. Until a few years ago, however, abandoned factories and derelict buildings were crumbling in the midst of undergrowth only a few minutes' walk south-west from the historic centre.
Lithuania's most renowned architecture offices then redeveloped the site and created the "Paupy" quarter, earning much international praise for the architecture and urban planning. At the far end, set behind Paupy, a mixed-use development; featuring three six-storey blocks; has created a transitional link between the town and forest.
The buildings are arranged in a slightly staggered pattern and divided into cubes so that they appear to be individual but are actually part of a U-format: On the south-facing side of the road, the linear frontage of the ground floor provides spacious areas for restaurants and shops and, set on top, there are three cubes containing office and living accommodation.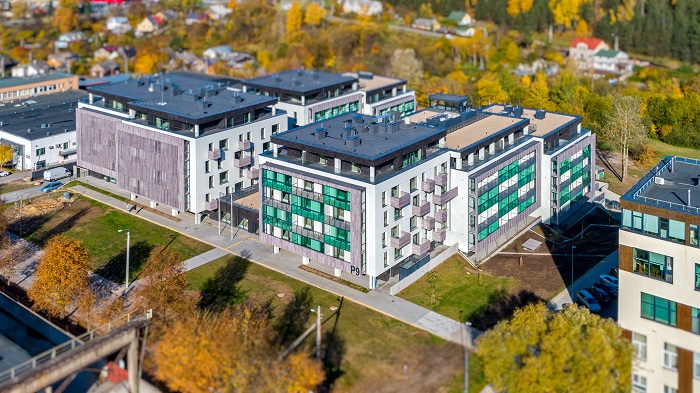 The sides of the building complex, which face outwards towards the garden and natural world, follow the lie of the land like a set of steps down to the banks of the river Vilnia. This is the private side of the development where flats in a variety of sizes are located and enjoy views of the courtyard, the river and the woods.
The façade mediates between urban architecture: dark brickwork, rendering and exposed concrete, and the woods behind: ALUCOBOND® tray panels in a light softwood look. The architects have given the sides of the cubes different design features in response to the different requirements of the mixed-use development, but the recurrent use of a single material palette creates a cohesive entity.
The vertical louvres placed in front of the office façade are made of ALUCOBOND® tray panels and, like flowing drapery, act as protection against the sun, glare and inquisitive glances.
The cubes at the rear face another direction. The façades with balconies are oriented to the east and west and their transparent or green glazing can be opened. The glazing provides better protection from noise, catches a lot of winter sun and is an energy-saving thermal buffer that offers warm outdoor spaces between seasons.
On the closed sides of the building, there are small, compact projecting features, which are also clad with ALUCOBOND®. Light and shadow also create motion and depth on these façades, reinventing them hour by hour.
Location:                             Vilnius | Lithuania
Architect:                             313 architects, Vilnius | Lithuania
Fabricator:                           LR Group, Vilnius | Lithuania
Installer:                              Lakede, Vilnius | Lithuania
Façade System:                   Tray Panels Special Design
Year of Construction:          2019
Product:                               ALUCOBOND® PLUS legno Antique Pine
Photos:                                © Evaldas Lasys